Last Modified 09 November 2023 |
First Added 29 June 2020
Master Bedroom Colours to Live By
Colour and light can both dramatically affect our mood; something long believed by artists and interior designers alike. So, the colour of your bedroom is hugely important for it to feel like your sanctuary.
Colour can also be a powerful communication tool, mood-booster and energiser, but of course, your feelings towards a colour are personal and influenced by your own experiences.
Here we take a look at colour and its associations through the seasons.
Spring Bedrooms
For us, nothing beats a gorgeously green spring bedroom. Heavily linked to nature, green is often described as tranquil, calming, and refreshing. Not only does it make you feel cheerful, but the colour is associated with health and new life – very appropriate for spring. We upholstered our divine Grace bed in a soft velvet fabric in Mineral and echoed it with pops of green foliage and calming taupe and grey accessories. Spring has most certainly sprung in this bedroom.
Another springtime aesthetic that is beautifully elegant, welcoming, and light is our Mediterranean look with the Sienna Rattan Bed taking centre stage. Again, nature is introduced through the weathered oak seen in the bed and coordinating Rattan Bedside and 3 Drawer Chest. And pops of rose rest happily like new flower buds atop our neutral toned hemp Willow Bed Linen.
Summer Bedrooms
Yellow is a gorgeously bright and warm colour and we are in full support of it, but our advice is to use it carefully and sparingly. Yellow is a very visible colour and can be visually fatiguing because it reflects so much light, so pick a shade that works for you. We've chosen mustard and ochre tones that are endlessly warm and cheerful, yet muted, and we've created a feeling of yellow with accessories - our Beatrice cushion and Looe Crinkle cushion and Throw. Continue the colour with flowers, vases or decorative items. Our weathered oak Aubrey furniture works a treat alongside our yellow hues adding more woody warmth and a summer brightness we adore.
Blue is another beautiful choice for your summer bedroom. Calm and serene, blue is often associated with bright skies, shimmering pools and turquoise seas. To avoid it feeling cold or icy, choose deep tones, echo them everywhere from the floor upwards, and contrast them against crisp white linens to make them pop and keep it fresh. Pairing it with dark wood such as our Maya bed and matching bedside also brings an opulence and evokes fond memories of summer holidays pottering around hidden coves under a glittering sun.
Autumn Bedrooms
Come autumn, we're wanting to create a cosiness while retaining a lightness of touch. Brown brings with it comfort and sense of strength, reliability, and safety. Our Urban Modern look channels chic loft living with the exposed brick walls serving as the main colour palette as well as steel framed windows. Our spice cashmere throw and Cushion provide texture, pattern and warmth atop our Chester bed, whilst our steamer inspired trunk stands proud, the leather offering feelings of strength and resilience. To keep it light, our Luca White Bed Linen ticks ever box, and whatever the season, we welcome greenery with open arms.
For a deeply sophisticated autumn bedroom, look no further than our Sienna Hotel roomset bursting with stunning symmetry, natural tones and elegant styling. The comforting caramel tones are everywhere from the Sienna Bed frame to the Sienna Bedsides, the taupe cushions, fine knit throw, rug and lamp. Working from a simple and subtle colour palette, this room set has autumnal sophistication all wrapped up.
Winter Bedrooms
Come winter we all want to hunker down and feel cocooned by our bedrooms. For us though, a winter bedroom doesn't need to be dark, in fact with the long dark days we want quite the opposite. We want warmth and luxury and we've created that with rich, deep colours and sumptuous fabrics. Soft velvet layers are deeply inviting, and spice tones complemented by hints of gold strike the perfect balance. We've gone bold with and upholstered our gorgeous pillow-back Floyd bed in Carbon Matt velvet. Delicious.
Blue and green together can cause controversy, but for us they reign supreme. Blue and green both have associations of calmness, and when used in such deep, vibrant tones as we've done, they are ever-so inviting and have a strength to them, a promise to keep you safe and warm. The colour palette of rich hues and pops of gold is welcoming of both a bright crisp morning as well as wrapping around you come night-time. Our Arlo Bed upholstered in Teal rich velvet is, undeniably, a bed with presence, our Gatsby Gold Bedsides bring elegance, and our blue accessories are warm and orderly. No winter blues here.
A bedroom for all seasons
Monochrome is an enduring style and one that will see you through from spring right through to winter. It's classic, striking, and is accommodating of tonal layers. Don't feel bound to using only pure black and white though, go tonal and introduce light greys and soft creams.
Softly does it...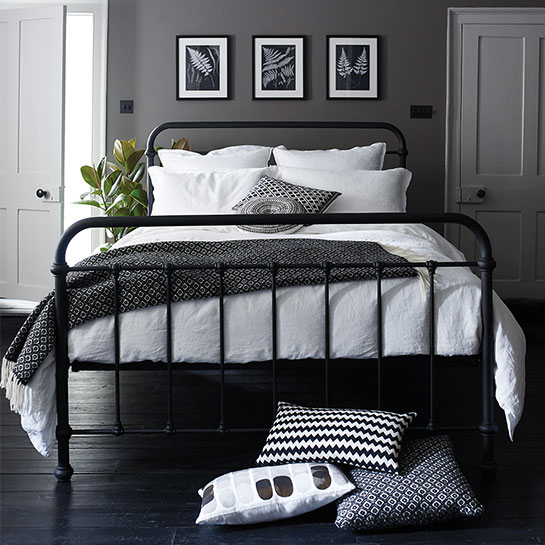 Modern monochrome...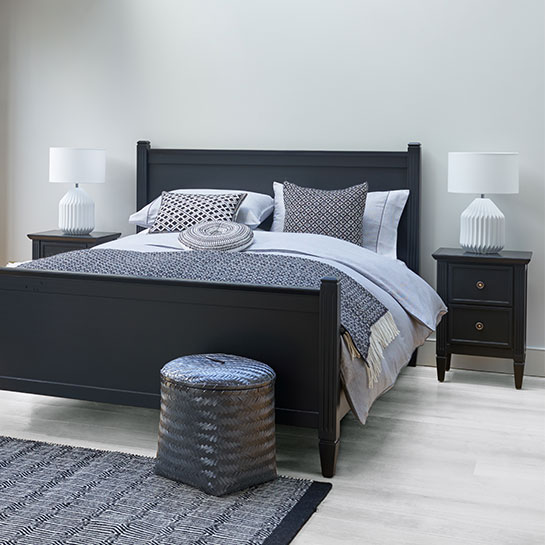 Light & layered...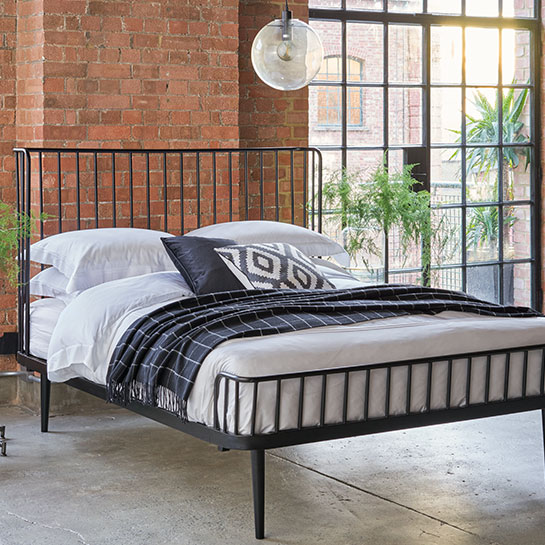 Related Articles