Last Modified 24 August 2023 |
First Added 28 August 2020
How to Care for Your Bedding
When you invest in good bedding it's worth caring it for it as best you can to keep it feeling premium. After all, nothing beats slipping between immaculate sheets. Here are a few care tips to keep your bedding and linens in tip top condition, which will make them last so much longer.
Here are some simple yet effective rules for caring for your bedding.
Bed Linen
All our bed linen is machine washable.
How to wash your bed linen:
We advise washing your bed linen on a 40˚ cycle with gentle spin of around 800 – most machines will have a bedding cycle. For best results wash your linens inside out to prevent colours fading and with similar colours, using a mild detergent. It's best not to wash your bed linen in with your normal laundry.
How to dry your bed linen:
For cotton bed linen, nothing beats drying it on a laundry line or drying rack. You can tumble dry your bed linen, but make sure it's a low heat and medium spin so as not to damage the threads. When it comes to linen bed sheets, tumble dry on a low heat to keep them beautifully soft, and it's actually better un-ironed. Hurrah!
How to iron your bed linen:
Drying your bed linen on the laundry line will minimise creases. If you tumble dry your bed linen creases will appear, but they're easy to remove. We recommend popping your bed linen on whilst it's still a little damp and let it finish drying on the bed. For a sharper look, iron your bed linen on the reverse side whilst it's still damp and this will revive the lustre that fibres lose after being washed. You can also steam it.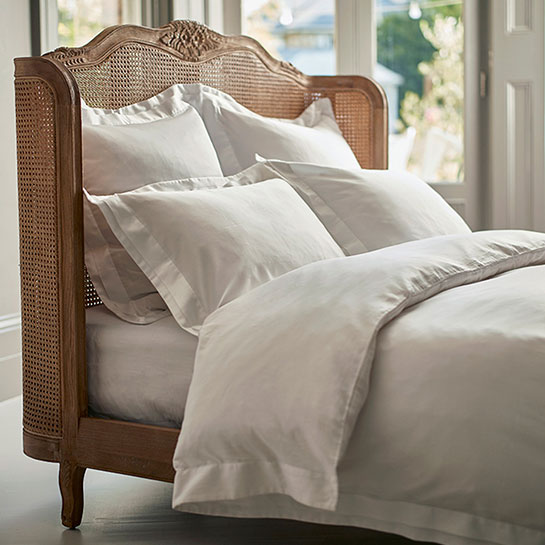 Bedding
The good news is that all our duvets and pillows are machine washable, but we do suggest getting them professionally laundered to ensure specialised care and drying. If you are attempting it at home, here are a couple of tips.
When you wash your bedding, it's absolutely essential to dry them out properly, otherwise they will adopt that rather nasty damp smell. Check the weather ahead of washing - allowing your duvet and pillows to dry in warm, natural sunlight is ideal.
Alternatively, just a little outdoor airing can also help get rid of odours and moisture.
Pillows should be washed every two to three months and duvets washed at least twice a year.
We recommend using pillow protectors to prolong the life of your pillow.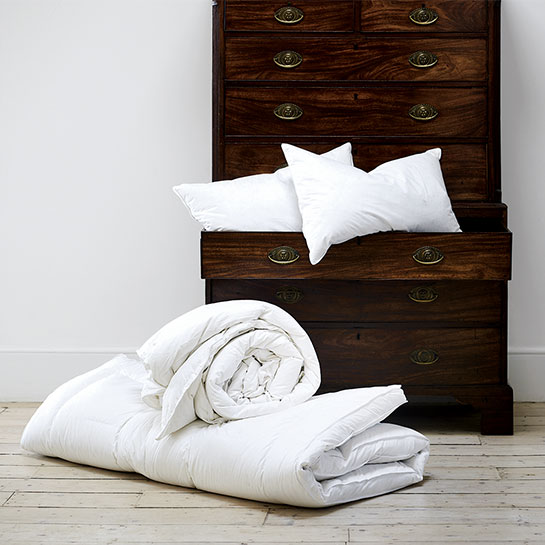 …we can only end by saying that you should always read the label on bed linens and bedding, as guidance can vary depending on the material or filling.
Read our Bedding Guide for more help and information
Related Articles