Wooden Bed Guide
There's something about wooden beds that just feels so welcoming and reassuring, and with so many different types of wooden bed frames to choose from, it makes them hugely versatile with the ability to complement both classic and contemporary interiors.
Last Modified 24 August 2023 |
First Added 16 March 2020
Aside from a wooden bed's aesthetic appeal, wood as a material ticks all the boxes. All the wood used to make our beds is sustainably sourced, durable, strong and made to last. All our beds feature a sprung slatted base for ultimate comfort and all but our Ercol ranges, are exclusively designed for us.
Let us introduce you to our range of wonderful wooden beds that are both timeless and beautiful and hold a special place in our hearts.
---
Weathered Oak
Our weathered oak beds are firm favourites and best-sellers for good reason. The production process is unique and involves a special white ash water being applied to the wood grain in a series of technical processes. Having explored the market, we consider the quality of our weathered oak best in class.
Our Sienna Bed is the Queen of our weathered oak bed range. Irresistably chic, gorgeously elegant with sweeping curves and an upholstered headboard (front and back), Sienna is crafted from solid oak and strikes a beautiful pose in any bedroom.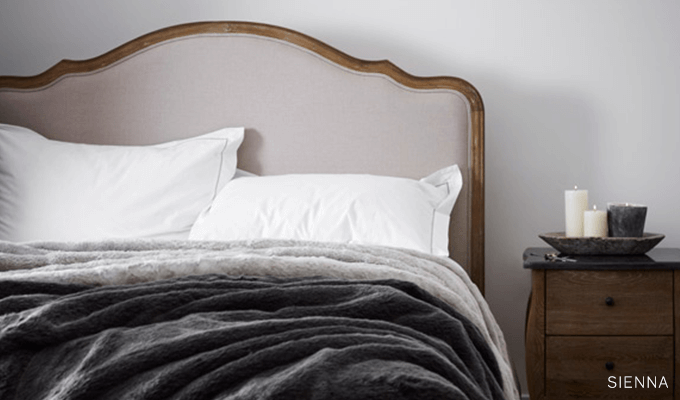 There's a natural union between linen and wood which is why our upholstered Loire and Aubrey beds are so appealing, whether it's an ornate buttoned headboard or a clean and contemporary straight-lined headboard.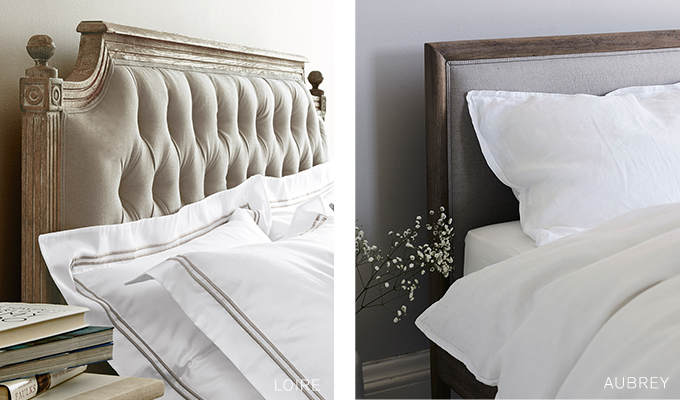 ---
Rattan
Rattan beds tick both the contemporary and classic boxes, but above all they are charmingly romantic, adding texture and a beautiful softness to the weathered oak frame.
Weathered oak and rattan are a marriage made in heaven and our Versailles Bed is both charming and romantic with a gorgeous winged rattan headboard surrounded by a stunning weathered oak frame.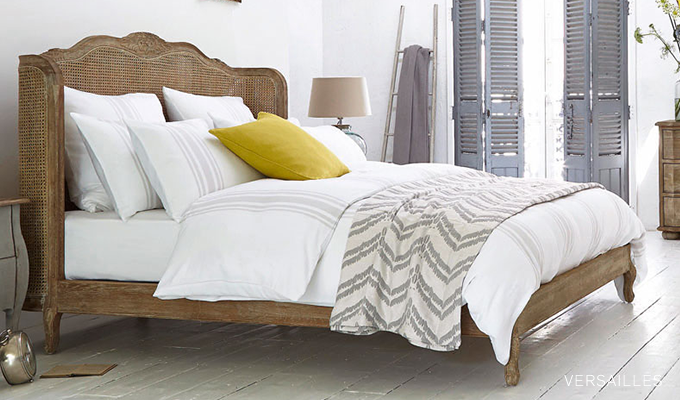 Our Sienna Rattan Bed features beautiful carving detail.

Both our Sienna and Versailles beds are surrounded by a weathered oak frame with rattan featuring on the front and back of the headboard, so you can make these beds the centrepiece of your bedroom.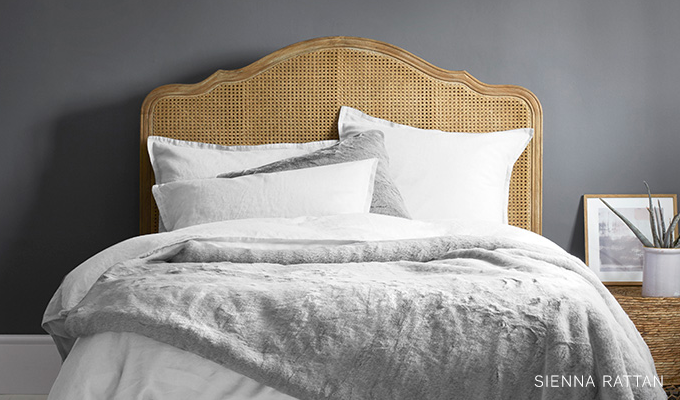 ---
Slatted
Slatted wooden beds are timeless and feature lovely detail in the slats which are all crafted and shaped to suit the style of the bed. A slatted headboard can make a bed look and feel lighter.
Our Marblehead Bed is crafted from solid oak with a matt lacquer and cuts a classic shaker style shape with a delicately curved top line to the slatted headboard.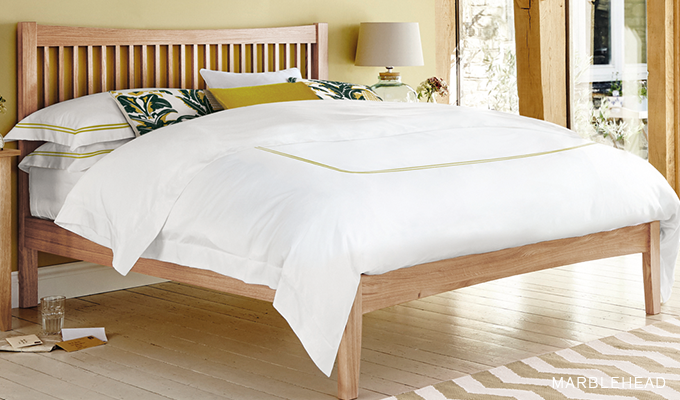 ---
Painted
Painted beds have a lightness of touch that's inherent in their design. They add a dose of freshness and create a clean and contemporary aesthetic.
Our range of painted beds are picture perfect, with classic design roots and a contemporary finish. Our beautiful Leith Bed features a tall panelled headboard with a statement plinth top, all painted in a crisp white.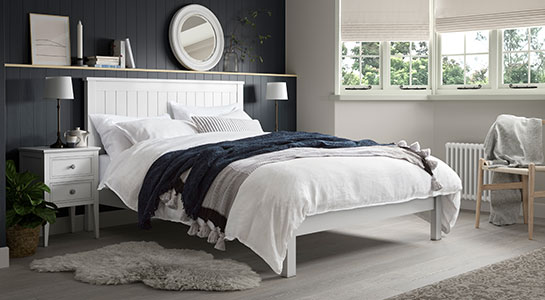 While our dark grey Chawton Bed is irresistibly distinguished with an elegant and stately three panelled headboard. For a completely coordinated look, the Chawton Bedside (available in dark grey and white) makes a perfect pairing. Both these lovely wooden beds have a smooth painted finish creating a fresh, sophisticated look.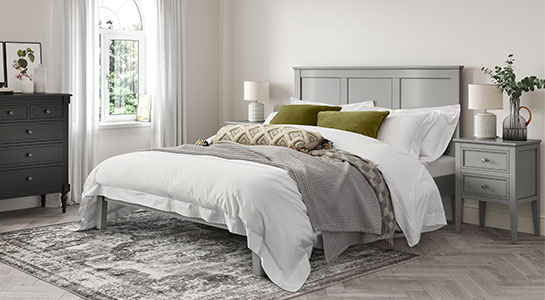 ---
Storage Beds
Storage Beds come in many shapes and forms, including beds with built in underbed storage drawers, classic divan beds and storage saviour ottomans. You need to decide what kind of storage best suites your needs and the size/shape of your bedroom. All our ottoman beds use a piston assisted lift and close mechanism.
---
Ercol
At the heart of Ercol is design, which encompasses comfort, function and beauty. Their designs are forward-thinking and always evolving whilst maintaining the quality and craftsmanship they're known for. An Ercol headboard is always distinctive and full of stylish detail.
Our Teramo Bed by Ercol is crafted from pale oak and influenced by classic shaker styling. The bed features and attractive turned spindle headboard which is elegant, simple yet stunning. Teramo is truly timeless.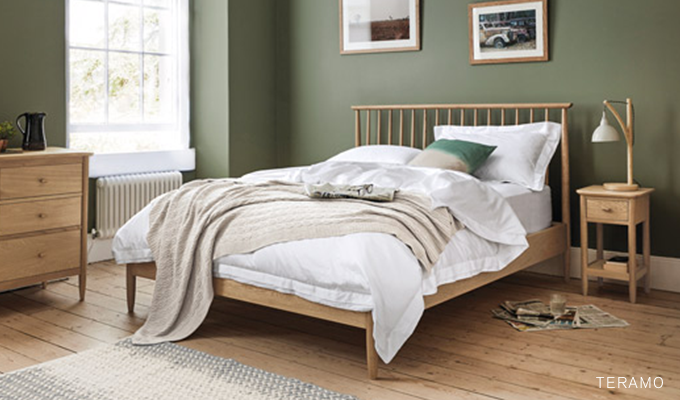 ---
How to Care for Wooden Beds
| DO | DON'T |
| --- | --- |
| Wipe clean using a soft damp cloth followed by a dry cloth | Oversaturate your wooden bed with water or liquid as this can cause damage |
| Use only water or wood-friendly cleaning products | Use abrasives or products that contain ammonia or solvents as this could scratch or damage the surface |
| Lift wooden furniture if you want to move it | Drag wooden furntiture as this can comprimise the structure |
UPHOLSTERED HEADBOARDS/BEDS
Professionally clean upholstered headboards
Spot clean with care - clear marks could appear