Last Modified 24 August 2023 |
First Added 16 June 2023
How to bring quiet luxury to your bedroom
Quiet luxury has become the surprise trend of 2023. After gaining momentum toward the end of 2022, this emerging style shows no signs of slowing in popularity. With a stronghold over the fashion industry, the movement has slowly but surely crept into interior design, so just what is quiet luxury and how can it be applied to bedroom decor?
Let's explore what defines quiet luxury and how to achieve the look in your bedroom decor.
What is quiet luxury?
Perhaps the yin to the yang of showy maximalism, quiet luxury is the aesthetic practice of selecting items across home, lifestyle or fashion which focus on quality and understated appearance over fast fashion trends. Quiet luxury epitomises minimalism when it comes to décor; think simple and timeless pieces that whisper rather than shouting. Some lifestyle editors have labelled the movement 'stealth wealth' as it focuses on sophistication over ostentation but includes quality all the same.
In the luxury fashion space, we saw the rise of logomania for several years, boosted by celebrity endorsement, but this has seen a halt from the end of autumn 2022 with consumers moving back toward more classic designs across fashion. These similar trends transcend beyond fashion through to home and lifestyle, which is where we now see a rise in quiet luxury in interior design.
The era of quiet luxury seems set to stay for the long term, as the aesthetic lends itself to a more classic approach and allows adopters to embody a timeless style.
How to style your bedroom for quiet luxury
Although the essence of quiet luxury is minimal in appearance, this does not mean your home cannot still be an inviting space; think less clinical minimalism, more warm refinement. Creating the feeling of relaxation and rest is of utmost importance.
You can display quiet luxury through your furnishings by opting for pieces which are of higher quality. When choosing pillows, consider the fullness of the pillow and prioritise plumpness. The fillings of your pillows also make a difference; natural goose or duck down filled pillows are perfect for achieving a fuller look which additionally offers comfort and support.
Cohesion is also a core component to consider. Whilst you should look to incorporate unique pieces, you can still balance this out with an overall modest setup.
Furniture collections are one simple way to achieve this, offering effortless cohesion with plenty of refinement. For interest, consider contrasting textures rather than shapes or colours.
Additionally, be selective with the artwork you choose. Think about art which will complement a few key statement pieces in your bedroom, such as signature lighting or furniture.
Your lighting itself should also embody the feel of quiet luxury. Including a chandelier is a wonderful choice for any classic luxury bedroom, although if you're seeking something more contemporary, consider pendant lights to achieve the same feel with a more modern look.
Quiet luxury decor: rules to follow
Select fabrics without logos
If you're looking to achieve true quiet luxury, anything with a displayed logo should not be included. Logos demand to be acknowledged and go against the fundamental aspirations of quiet luxury, which has the instant feel of an opulent space without the need for designer credentials.
Embrace period features
Period features not only make your home unique and nod to a house's heritage, but additionally provide authentic design elements to capture the essence of quiet luxury. Whether this is Victorian cornicing or classic wall panelling, these features should be protected and celebrated in your home, playing a central role in your room aesthetic.
In with the old and out with the new
Bringing antique pieces into your bedroom decor will create an atmosphere of reverence and instantly elevate your room. Mixing new pieces which have ageless appeal with genuine vintage finds will allow you to keep your room contemporary, whilst appreciating the provenance of antique furniture. For pairing classic style with new furniture, our bespoke weathered oak range instantly captures the heritage look with modern quality you can trust.
Select muted or earth tones
Choose one or two hero colours for your walls and opt for earth or muted tones to create an understated and inviting atmosphere. Sage and olive hues are perfect for this, and are exquisitely captured in our bestselling Charlotte Bed, which marries rich olive upholstery with dark wooden accents.
A few classic furnishings such as the Charlotte should become your focal points, whilst warm earthy wall colours complement the overall look, creating an inviting and calming sanctuary in the home.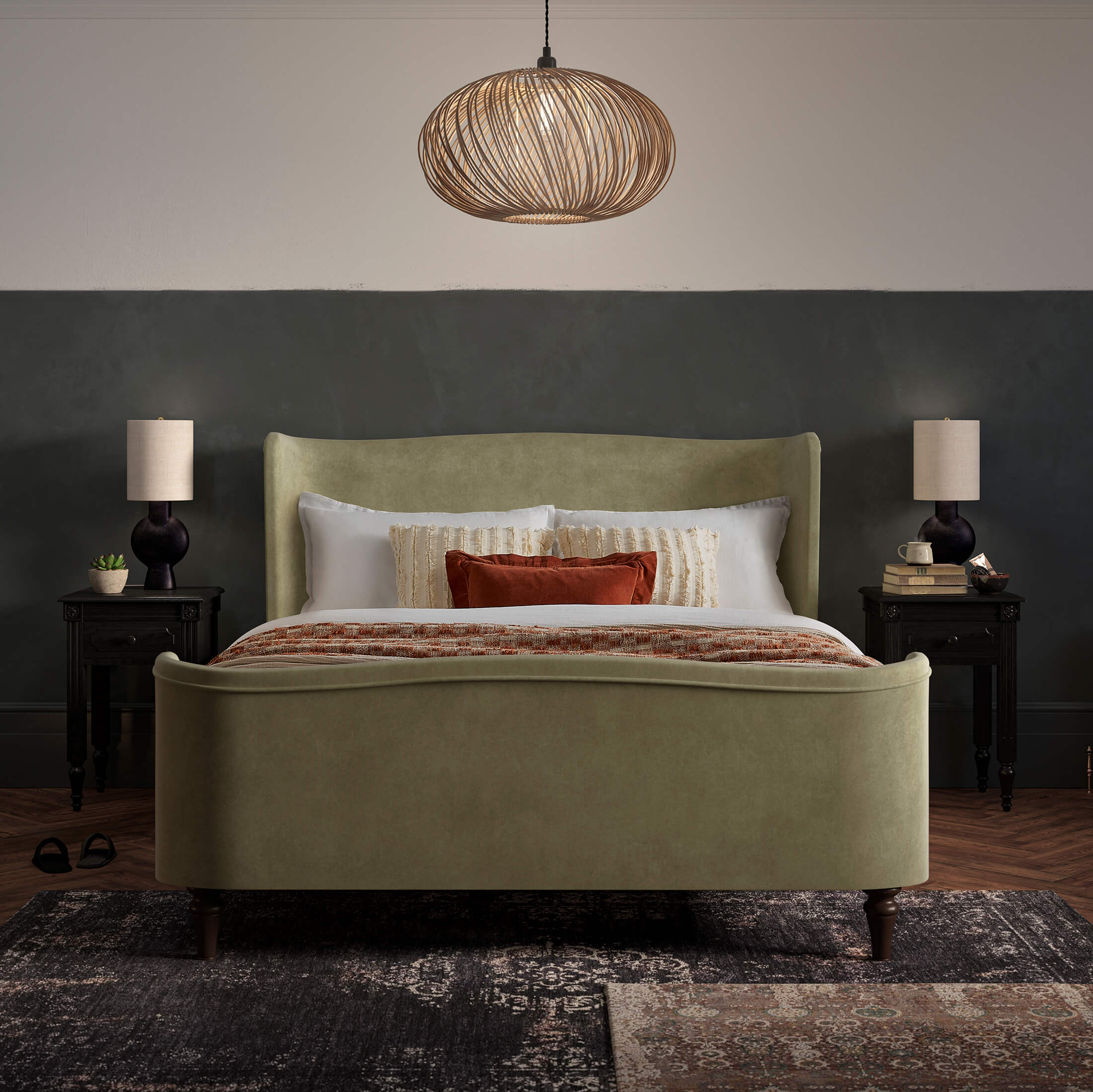 Create a capsule furniture collection
The placement of your furniture is essential to expert execution of quiet luxury. Opt for minimalism in the volume of items; by keeping things simple, your statement pieces will create a luxurious yet subtle finish to your room.
Investing in fewer core pieces of furniture will not only show a more luxurious approach to your decor but additionally have the benefit of offering a capsule collection, which will stand the tests of time and justify your investment.
Remove all distractions
To achieve a luxurious feel, items like TVs should be hidden in classic-style furniture pieces or removed altogether. Additionally, try to pare things back and be selective about the pieces you have in your bedroom to create an inviting atmosphere. Anything that commands attention, such as technology, should be sparing.
Know your fabrics and materials
As this trend is all about quality it's imperative to invest in exquisitely crafted bed linen and furnishings. Opt for sheets with natural materials and high thread counts to achieve this. Higher thread counts provide a luxurious and more durable quality, in addition to being much softer to sleep on.
For bed frames, look at options such as solid weathered oak beds. Wooden frames embody a timeless appeal and are reliable for long lasting wear. Our bespoke weathered oak range pairs beautifully with soft linen headboards which exude relaxed luxury, completing that timeless look.
K
eep the floor empty and spacious
To enhance the luxurious feel of your bedroom, neatly store away items in timeless pieces that offer generous storage options, such as dressers or chests of drawers. This leaves space for your statement furniture to be the focal point, creating a timeless inviting atmosphere.
W
hat are the benefits of a quiet luxury décor?
By now you know that quiet luxury looks stunning in the home, but there are some benefits of adopting this style that are important to note too:
It doesn
'
t date
What better way to achieve lasting luxury than to lean into a core trend which won't date? You can rest assured that putting the work into changing your decor to quiet luxury is an investment worth making as the style stands the test of time.
It elevates your home interior
Opting for this aesthetic will elevate your bedroom interior in a classic yet effective way. This style allows you to say more through less and promotes your décor with unassuming style.
It can add value
A quiet luxury aesthetic allows prospective buyers to imagine themselves at home in your property without the distractions that ostentatious decor can have. This has the benefit of making your home more appealing to a wider demographic of potential buyers. The style is much more adaptable to new homeowners as its discreet style lends itself to being personalised.
It allows you to invest in quality pieces
With a focus on quality over quantity, you can take your time to find the perfect pieces to style your ideal bedroom decor. What's more is you are making a conscious choice to invest in core pieces which will last.
W
here to look for inspiration
For minimalist bedroom ideas, Instagram and Pinterest have a plethora of ideas to browse. This style's proliferation means it won't take long to fill up a mood board of inspiration.
Another tip is to search for luxury property listings online. Browse homes which have classic architecture as more often than not, the interior decor should follow suit. Take note of the accessorising of rooms and key furnishing pieces such as rugs or drapes.
You may have also noticed that the hit TV show Succession is a prime example of well-executed stealth wealth lifestyle inspiration. From fashion to homes, the show accurately represents what genuine quiet luxury looks like for the highest echelons of society and can be a wonderful source of ideas.
If you are looking for luxury bedroom ideas, discover more interior inspiration.
Related Articles