Five Minutes With: Ciara Elliott, House and Home Editor
Last Modified 24 August 2023 |
First Added 11 May 2023
From fashion influences and championing the #vanillagirlaesthetic, to renovating a 250-year-old farmhouse, let's take a look into the bohemian world of magazine editor Ciara Elliott.

With her finger on the pulse of the fashion world and the ability to find inspiration in the heritage of a National Trust property, we talk all things interiors and slow living for a truly modern take on how we all really want to live.
Q: Ciara, how did your interiors journey begin?
A: Ever since buying my first house and doing it up (almost 20 years ago now), I have always loved everything home related but I really got into it when I started doing my own renovation and sharing pictures and ideas on Instagram.
The house was a big project and needed everything doing. We even had to move out for almost a year while we took it back to a building site shell and added an extension. Being a really old, tumbling down farmhouse with a gorgeous garden, there were so many ways we could have done it.
I not only discovered really incredible local businesses and suppliers through Instagram, I also had so much great advice, ideas and support through the lovely community that I found on there.
Buying our house project also coincided career wise with me moving from fashion magazines to interiors magazines when I took over as editor of EKBB. I am now editor of the popular Irish homes title, House and Home.
Q: Describe your interiors style in 3 words
A: Vintage, Bohemian, Feminine.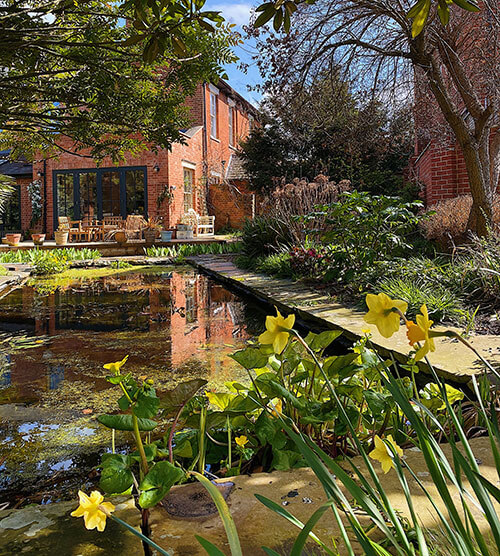 "I was drawn into interiors through magazines and photography"
Q: You've worked with some incredible interiors magazines, and are also the co-founder of FashReboot… how does fashion influence your style choices at home?
A: All the time!
From the very start I was drawn into interiors through magazines and photography. I always loved the people angle of any house story which is probably why Instagram was immediately appealing. I also often found great houses through my fashion contacts as the two are so similar. There are so many arty and creative people in both fashion and interiors.
Fashion Reboot came from another angle which was to create a fun and sustainable marketplace for those of us who miss the buzz of fashion – it is almost all virtual now – and have a conscience about too much online shopping. It's sort of like a real-life Vinted or eBay with none of the hassle of going to the post office. It attracts real clothes lovers who just love to get together to feel and experience what they are buying and selling.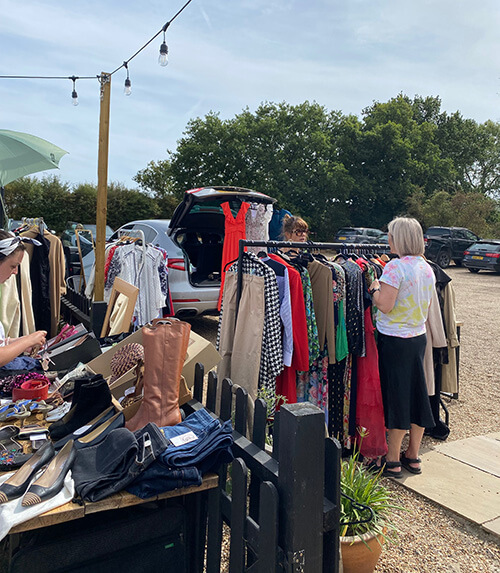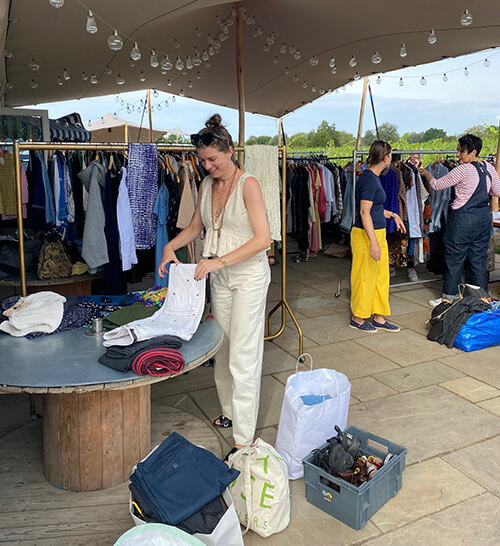 Q: Where else do you find your inspiration?
A: I love visiting old National Trust properties and English heritage properties such as Chatsworth House, Red House in London (our house is called Red House so I have a particular soft spot!), Audley End in Essex and Eltham Palace. I visited Kettles Yard in Cambridge recently which I loved.
I also travel around Ireland a lot for work and some of the places I have stayed recently are so gorgeous. For Victorian grandeur I love the Shelbourne in Dublin. The Cliff at Lyons is stunning, as is Ashford Castle in Mayo. I love anywhere a bit old and dreamy.
"Interiors-wise, the challenge has been storage"
Q: You're currently renovating a beautiful 250-year-old red brick home. What have been the biggest challenges so far?
A: Beyond the actual renovation itself, I would say interiors-wise the challenge has been storage.
The reality with old houses is that their closets and kitchens and bathrooms in the main were small. It is a challenge when you pull everything out and start again. We did our kitchen last year but we are still missing built in wardrobes and an en-suite in the guest room.
Q: What is the best lesson you've learned along the way?
A: Take your time. It doesn't have to be all done at once.
Q: Do you think the perfect home is ever 'done'? And why?
A: Probably not! Unless you are one of those pragmatic people who can do a house to flip it and make some money!
Otherwise, things are always changing, your needs are changing – we all saw during the pandemic when every spare bedroom was turned into an office – and also your family is growing and changing. The bedroom you design for a 5-year-old will not be the same one your teenager wants to be in.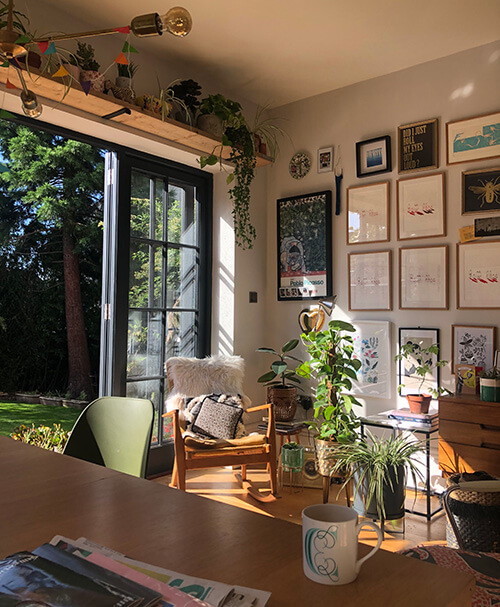 Q: You've recently styled some of our furniture in your home. What's your favourite item from Feather & Black, and why?
A: I love the Charlotte bed from Feather & Black that I have recently put into our guest room. It feels luxurious and hotel-like with its cocooned headboard and winged finish. It is fully upholstered in moss green velvet which works well against the dark brown walls in this room.
I also have the Coniston mattress - also from Feather & Black - which is so incredibly comfortable. I've had only good reports from house guests who have stayed so far.
Other products I love in the current Feather & Black ranges are the Sienna wardrobe and Sienna dressing table.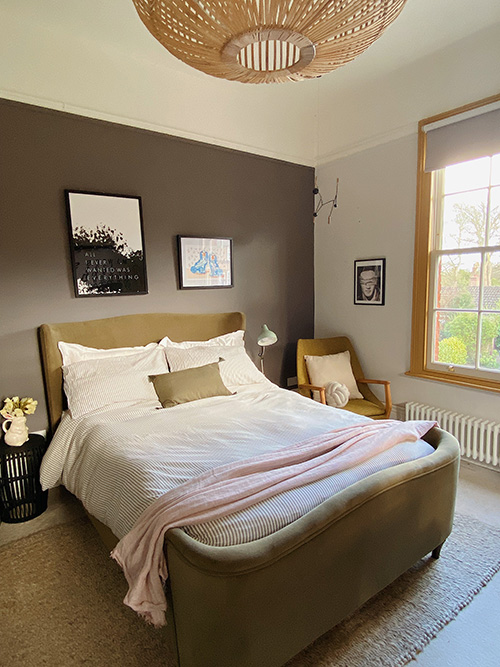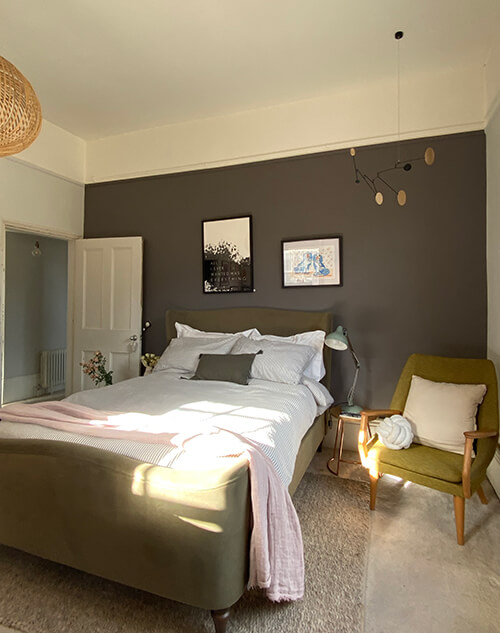 "Something that can really transform a room is lighting"
Q: What do you look for when investing in quality pieces for your home?
A: In my opinion the most important items in the home that you have to get right are your sofa, your dining room table and your bed and mattress. For all those items I would look for things that are super comfortable and suit the style of your room.
If you want to add a bit of vintage, I would say look for items that have re-sale value such as sideboards, small tables and chairs and also artwork with a personal touch. Never underestimate the power of an amazing rug, and something that can really transform a room is lighting.
Q: What interior trend would you love to see make a comeback, or are there any current fashions you're loving at the moment?
A: I am not sure on this. What is making a comeback is the beige schemes which we all went off when the design world turned to grey about 15 years ago. I like to see these warm neutrals come back in now. I love bare gallery-like walls and layers of warm neutrals, so am personally here right now for the trending Vanilla Girl Aesthetic.
Q: And finally… what's your favourite spot in your home, and why?
A: I love my bed! I also love our rocking chair at the window overlooking the garden downstairs where I can sit any weather, rain or shine.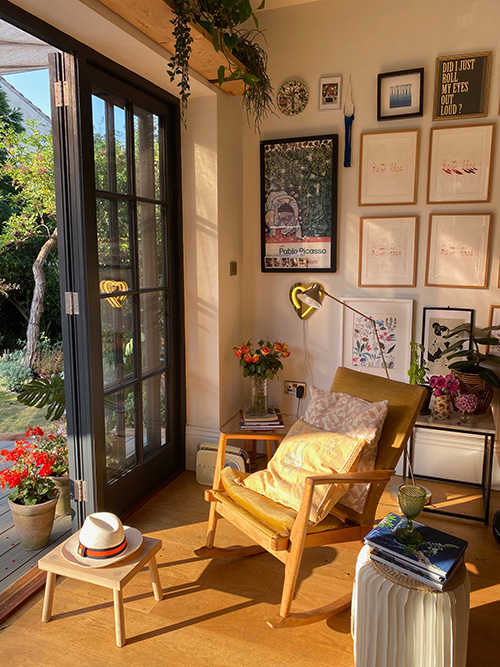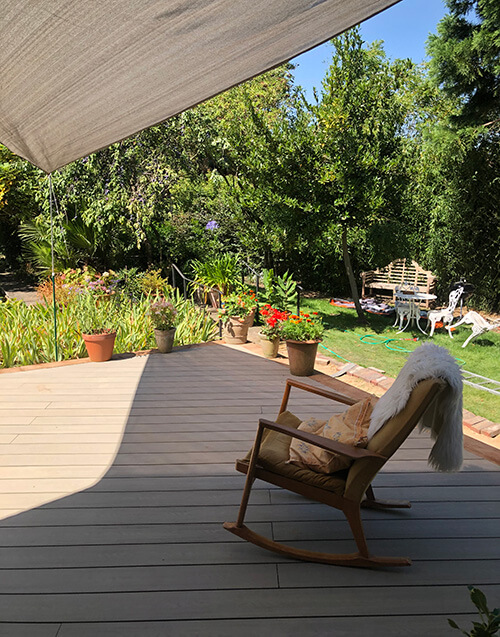 That all sounds dreamy! To recreate Ciara's calming bohemian style, shop our Charlotte bed for hotel luxury with plenty of home comforts.
Discover more style secrets from our Five Minutes With series, venturing behind closed doors with our favourite creatives to uncover their interior inspiration.
Related Articles