Five Minutes With: Penny Goldstone,
Marie Claire Fashion Editor
Last Modified 24 August 2023 |
First Added 19 April 2023
Working at Marie Claire UK, Fashion Editor Penny Goldstone is a leading voice in the fashion industry, covering everything from catwalk trends to Royal fashion. Now sharing a peek inside her home and revealing her personal tastes for both fashion and interiors, Penny's Instagram offers a curated lookbook for sophisticated, considered style.
From decorating disasters to baby-proof style, we delve into Penny's influences and style rules for the first instalment in our 'Five Minutes With' series.
Q: Penny, fashion obviously plays a huge part in your life, so how did your interiors journey begin?
A: After years of renting furnished flats in London, we bought our first home in Surrey five years ago and I realised I didn't know what my interiors style was as we'd never been able to decorate before. I bought a few things in a rush and made some decorating mistakes in an effort to leave the too-neutral rentals behind, but that's how you learn.
Q: Describe your interiors style in 3 words.
A: Modern, vintage, colourful.
"I find my home tends to bleed into my wardrobe and vice versa"
Q: As the Fashion Editor at Marie Claire, you obviously have a keen eye for how to build a look. How does fashion influence your style choices at home? How closely related are the two?
A: The two are very closely related; I find my home tends to bleed into my wardrobe and vice versa. My old house was very colourful and so were my clothes, now I'm veering more towards earthy shades and neutrals in both departments. I'm focusing on classics that will stand the test of time, whether that's a rattan bed or a tailored suit.
Q: You've travelled to some wonderful places. Do you have a favourite that's influenced your style?
A: I love the architecture and minimalist decor that's very specific to the Greek Islands. I've taken some elements of that to decorate our home as I don't think the full look totally translates to the UK, it definitely works better when it's sunny and warm.
Q: Where else do you find your inspiration?
A: I get a lot of inspiration from my travels. I've been fortunate enough to go all over the place with work and some hotels have definitely inspired my decor choices. The wood panelling in our living room was inspired by the Gilpin Lodge hotel in the Lake District, for example. I also trawl Instagram and magazines for ideas, and I'm obsessed with Architectural Digest's Open House tours on YouTube.
"I usually invest in one trend-led item that'll update the classics I already own"
Q: What's the best styling lesson you've learnt throughout your career?
A: Don't go overboard when buying into trends, you'll quickly grow tired of it. I usually invest in one trend-led item that'll update the classics I already own - again a styling lesson that works for both fashion and interiors.
Q: You've recently welcomed a new arrival into your home – many congratulations. How has this exciting new stage of life influenced your style choices? Have you found ways to life-proof a luxury interior look?
A: Thank you! I wouldn't say my home is completely baby-proof as I wanted to invest in items that I truly love and will last, such as the travertine dining table. However I've been careful with fabrics and materials I've chosen. Our sofa and carpets for example are very easily washable. As for the nursery, I saw it as an opportunity to have a bit of fun. I've never used wallpaper before, but I really leaned into the tropical theme for Clementine's nursery.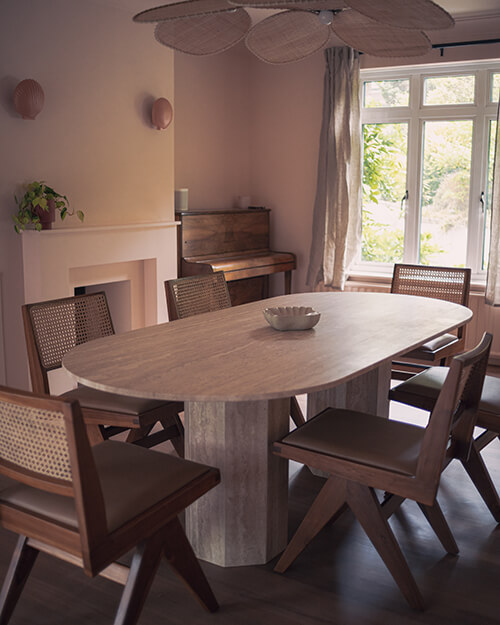 Q: You've recently styled some of our furniture in your home. What's your favourite item from Feather & Black, and why?
A: The Vintage Rattan Bed. I love its modern take on a vintage bed, thanks to its stylish dark wood frame and the rattan which adds a natural texture. It's the statement piece that I used to inspire the rest of the room.
"

I'd love to incorporate a glass block wall into my house at some point"
Q: What interior trend would you love to see make a comeback?
A: I'd love to see a modern take on the 80s - I'd love to incorporate a glass block wall into my house at some point.
Q: And finally… where is your favourite spot in your home, and why?
A: The boucle and solid oak armchair by the living room window that overlooks our garden. The perfect reading spot.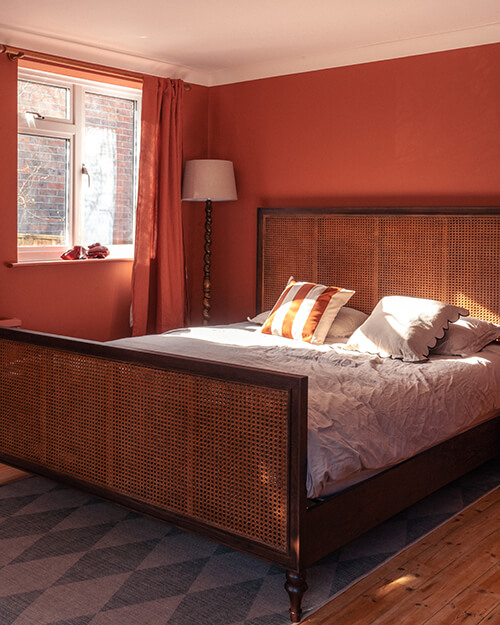 When it comes to classic interiors, it doesn't get any better than the Vintage Rattan Bed. Shop Penny's style today with this statement pick.
Related Articles