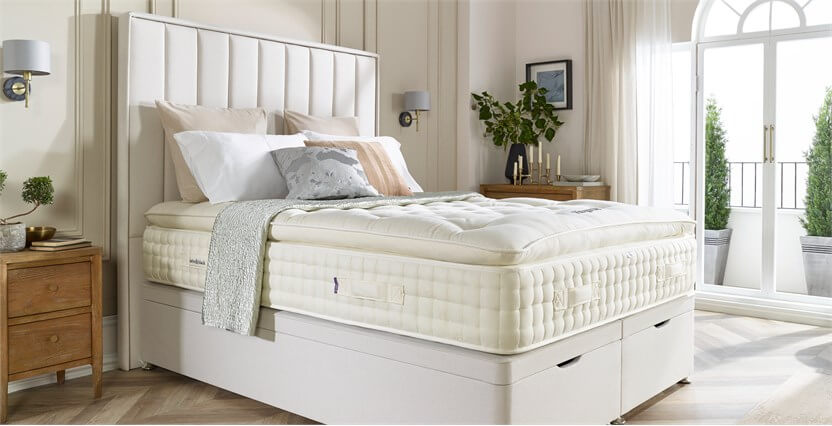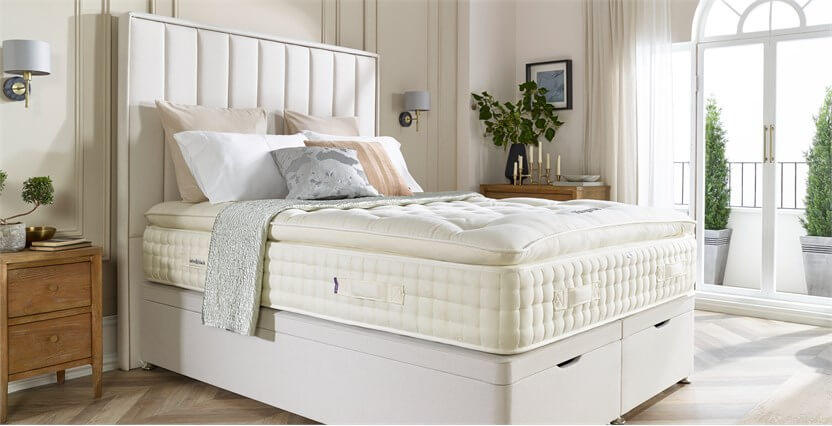 The Story Behind the Product
The Fitzgerald Mattress provides the ultimate comforting relief after a long day. Enjoy an exceptional night's sleep, fully supported by 12,000 meticulously inserted pocket springs (king), luxuriously bedded between eight sumptuous comfort layers of 100% British natural fibres.
Sink into comforting layers of naturally cooling, farm-grown hemp and flax, blended with fully traceable Yorkshire wool. Boasting unique anti-bacterial properties and a cooling finish that will keep you comfortable all year round, the hand-finished Fitzgerald perfectly pairs comfort and support.
Look after your mattress with our Mattress Protectors.
Fitzgerald Mattress
(2)
£1,519
Was £1,899
You Save £380
Order Now for delivery from 28th October. Enter your postcode below for delivery availability.
Made exclusively for Feather & Black by Harrison Spinks in Yorkshire
Available in two tensions – soft & medium
Single tension, dual tension and zip & link options
7-year guarantee
Looking After Your Mattress
This is a non-turn mattress
Non-turn mattresses are perfect for those who have difficulty moving a bulky mattress
To keep this mattress at its best, rotate head to foot every week for the first 12 weeks then seasonally twice a year thereafter
Fillings & Spring Counts
Luxuriously filled with fully traceable Yorkshire wool, blended with natural hemp and flax sourced straight from the Harrison Spinks farm
Harrison Spinks has partnered with British Wool so you can fully trace the origin of their wool from farm to factory before it arrives in your home
Enjoy a fully supported sleep with 12,000 pocket springs (king), comprising six dynamic layers of micro, Posturfil and Cortec™ pocket springs for even comfort
Posturfil pocket springs provide instantly relieving support as you sleep. Small and highly flexible, these springs contour to your body to support your movement all night long so you're ready for the day ahead
Harrison Spinks' Cortec™ springs offer an innovative and sustainable system that's 100% recyclable, with zero landfill waste as no glue is used in the construction
Six layers of high-density pocket springs adapt to your body as you sleep, relieve pressure and allow the mattress to breathe
Mattress Finishing
Three rows of intricate hand sewn side stitching for edge-to-edge support
The traditional side stitching technique takes years of training to master and requires hours of meticulous work from the Harrison Spinks team on every mattress produced
Rest easy on a chemical-free sleeping surface made from a blend of wool and viscose, with a handtufted finish
Padded handles for manoeuvrability
Comfort Guarantee
A

10

0

night

comfort guarantee

is available

on

this

mattress

Click here

t

o find out more

about our comfort guarantee

T

erms and conditions apply
SKU
133-01060
Length

190 cm

Width

90 cm

Depth

30 cm
Please allow for a tolerance of +/-2cm
*Due to the pillowtop, the depth of the mattress can be up to 38cm
Every effort was taken whilst building your new mattress to ensure that it will provide you with excellent comfort and support for years to come. However, there are a number of steps you can take, during use, to make certain you get the most from your new purchase
We highly recommend using an under blanket or good quality cotton or wool-faced mattress protector.
Avoid using plastic sheets as beds need to breathe and using plastic will lead to damage through condensation.
It's a good idea to air the mattress regularly too, by leaving the bed linen folded back for a few hours each day.
Remove dust and fluff from your mattress every few months using a soft brush. Never use a vacuum cleaner as this can displace the natural fillings.
Any spillages should be absorbed using a dry cloth or paper towels. If you need to sponge the mattress, use a damp cloth and a very mild solution of soap and water.
As most people sleep in the same position every night, body impressions are a normal feature of handmade mattresses.
You may find fillings settle or dip in the area where you sleep which can leave a ridge in the centre of the mattress.
Free delivery on all orders. For our full delivery terms and conditions, please click here.
Our delivery service includes a two man delivery to the room of your choice. This item comes with a full set of simple instructions for assembly.
We anticipate your delivery to be with you no more than 14 days after the product is delivered into the delivery depot.
For important information regarding returns, please click here
It is important that you check whether the goods will fit into your property before ordering - please use our handy measuring guide or contact us for more information.
Please make us aware of any of the following at the point of ordering:
Access issues to your property; including road width, driveways, parking restrictions or security gates
Restrictions once inside your property; including ceiling height, tight staircases or other furniture in the way - remember to have the room cleared ready for your delivery
Supervision of your delivery; please ensure that there is someone to supervise your delivery to ensure furniture is delivered exactly as you requested
For important information regarding returns, please click here.
Finance available
Spread the cost of your purchase with interest free credit over either 10 or 20 months*.
Representative Example
Item Value
£1,519
Deposit
£0
Total Amount of Credit
£1,519
Agreement Duration
20 months
Annual Rate of Interest
0%
Representative APR
0%
20 Monthly Payments
£75.95
Total Amount Payable
£1,519
* The approval of your application depends on your financial circumstances and borrowing history, so do the terms you may be offered