Last Modified 24 August 2023 |
First Added 07 November 2019
3 Steps to Making a Perfect Bed
Making the bed is a daily task for all of us, whether it's done with love and all the finishing touches or it's a slightly rushed throw of the duvet and dash. But no one can deny that a freshly made bed looks wonderful, is surprisingly satisfying and sets you on the right track for the day ahead.
Read on to discover our 3 simple steps for making the perfect bed.

1. Hospital Corners
When you're using a flat sheet rather than a fitted sheet, it can be tempting to tuck it all under the mattress without much thought. Unfortunately, this doesn't do you any favours as the sheet is likely to come untucked and ride up the mattress.
The most effective method to prevent this is by mastering the technique of folding hospital corners with your bed sheet. This method will keep your sheet firmly tucked under the mattress, preventing any untucking or riding up, and guaranteeing a beautifully neat and professional looking corner fold.
Here's a step-by-step guide to folding the perfect hospital corner:
Lay a flat sheet on the mattress, letting the sides drape evenly over the bed

At the foot of the bed, tuck the sheet under the mattress

About 12 inches along from the foot end of the bed, take hold of the bottom of the sheet and lift it up to form a triangle

Tuck any excess sheet near the foot end under the mattress

Fold the triangle back over the side of the mattress and tuck under.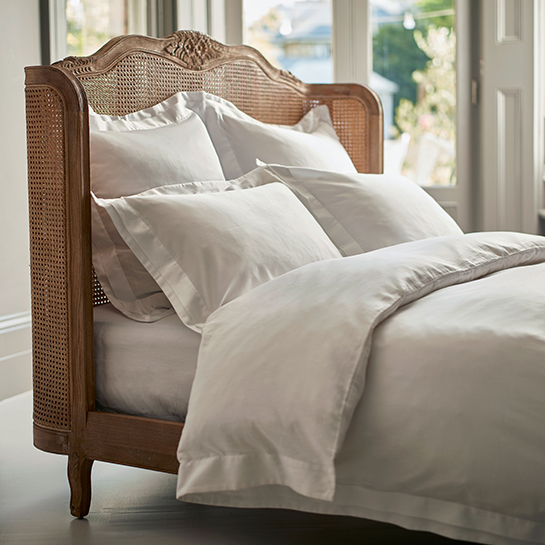 2. Duvet & Pillows
While straightening your duvet and pillows might seem straightforward, our simple tips can enhance the comfort and appearance of your bedding.
Duvet
We recommend always giving your duvet a good shake out in the morning. This helps redistribute the fillings, making it neat and inviting for your return later that night.
Once you've done this, lay your duvet out and position your pillows on top of it.
A little trick to keep your duvet plump is to use a duvet cover that's one size smaller than that of your duvet. You heard it here first…
Pillows
We suggest using two pillows per person, as it gives more volume to the bed and makes the styling more sumptuous. For a polished, chic look, stack a continental pillow behind a standard pillow.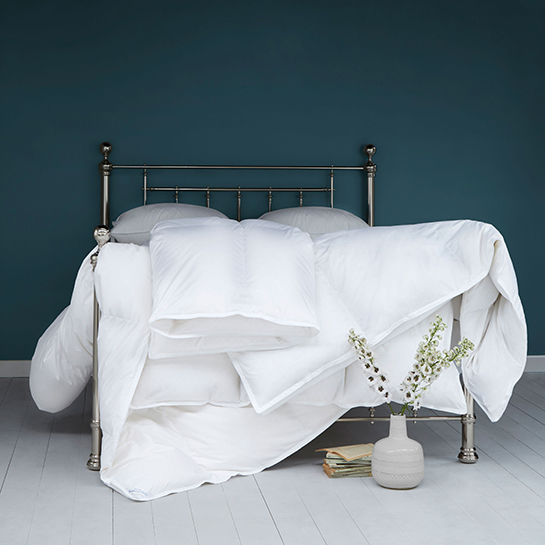 Top tip: Choosing the right bed linen material
Choosing the best bed linen depends on your preferred style. For a relaxed rustic look, our 100% cotton bed linen is ultra breathable and oh-so soft. It's machine washable for low-maintenance luxury, with a range of classic designs to instantly transform your bed. If you're seeking a silky feel, our cotton sateen has an opulent 600 thread count, showcasing the very finest quality with a lustrously soft finish.
3. Dress Your Bed
Adorning your bed with cushions and throws is a fantastic way to personalise and style your sleeping space.
Our gorgeous collection of bedroom accessories has something to suit every boudoir; browse perfectly plump velvet, luscious linen and sumptuous bouclé cushions to adorn your bed with.
Cushions offer a chance to experiment with colour without the maintenance, plus you can change them with the seasons and create a whole new look.
When it comes to styling, for a more uniform, hotel-chic look, we suggest using an even number of cushions stacked in neat lines in-front of each pillow.
For more relaxed styling, use an odd number, let's say three, and position them softly overlapping one another.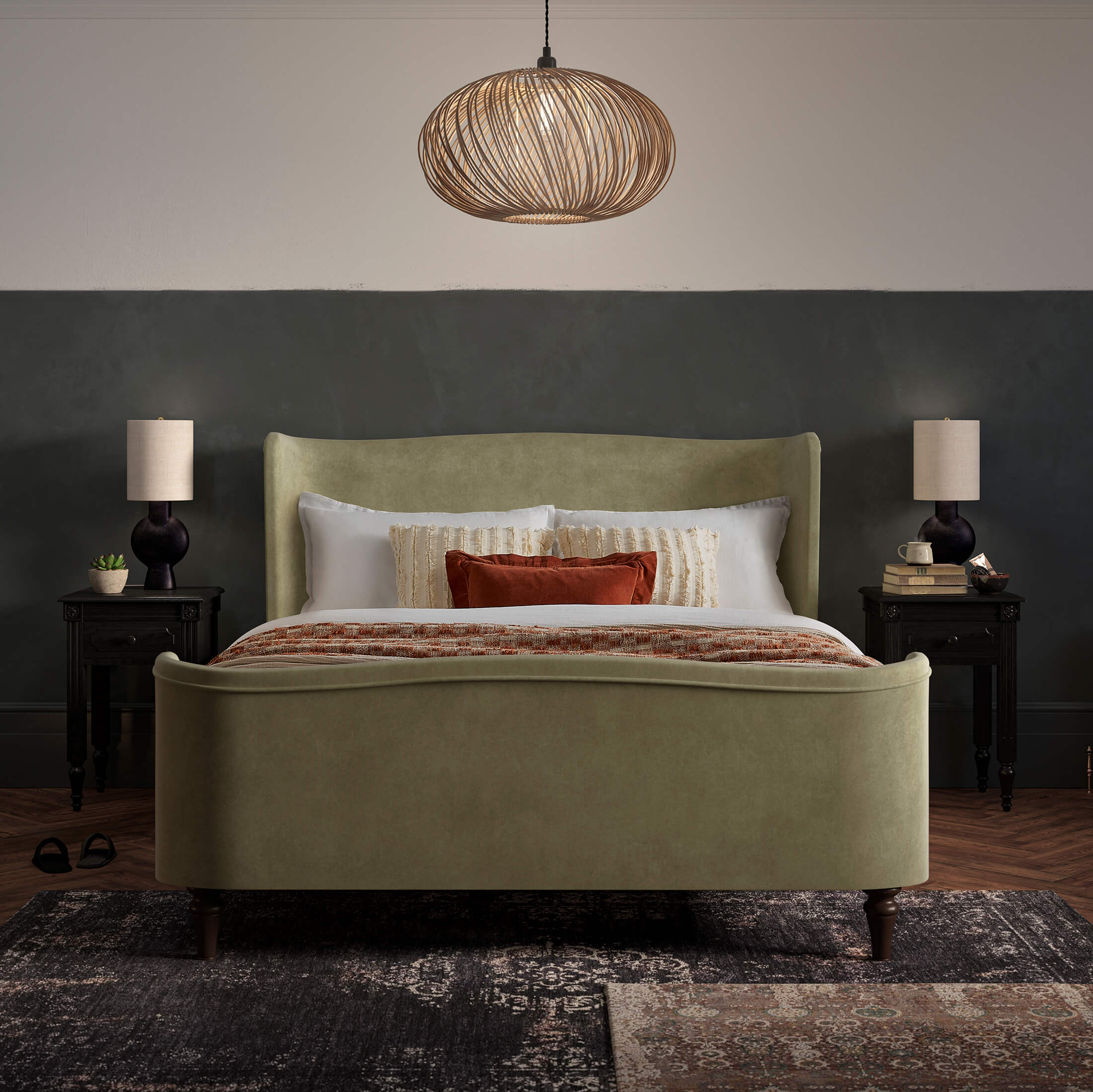 Top tip: Seasonal bed dressing
In the winter months, don't forget to drape a soft throw along the foot end of your bed. Not only do these chunky knits look stylish, but they also act as an additional layer of warmth on chilly nights. And, of course, you can change the thickness of the throw with the seasons to keep your look up to date. In the summer, change it up by dressing your bed with soft linen sheets for a breathable finish.
And there you have it! Creating a well-made bed is easier than you think, and we hope these three steps will set you on your path to exquisite bed-making.
Of course, a beautiful bed is just the beginning. Discover our six styling secrets to create an exceptionally boutique bedroom.
Related Articles