Last Modified 24 August 2023 |
First Added 14 May 2020
Wonderful Weathered Oak
There's something wholly elegant and inviting about weathered oak style beds and coordinating furniture pieces. There's a softness to them, a tactile quality, whilst emanating strength. We love the gentle neutrality weathered oak creates which is undeterred no matter what the design of the bed might be, from rattan bed frames to upholstered headboards, meaning it's versatile and welcoming of any bedroom aesthetic.
Our weathered oak ranges are varied yet belong to a distinctive family. Our best-selling Sienna range is endlessly classic, Sienna Rattan and Versailles burst with rattan romance, Loire is deeply sophisticated with its deep buttoning and Aubrey is thoroughly contemporary with its clean lines.
French sophistication
Handcrafted from weathered oak, our Sienna range is très chic with its French-inspired luxe styling. Sweeping curves and cabriole legs define this beautiful furniture collection, creating an undeniably sophisticated aesthetic.
Our Sienna Bed features an upholstered headboard in a natural linen front and back, so if you wanted this bed as a centrepiece to your bedroom, Sienna looks good from every angle. The Sienna furniture collection is generous and includes a gorgeous wardrobe, one and two drawer bedside tables and chest of drawers, a tall boy, a dressing table, chairs, a bench and a stool. So, if you want to create a completely co-ordinating and thoroughly beautiful bedroom, look no further than our Sienna range.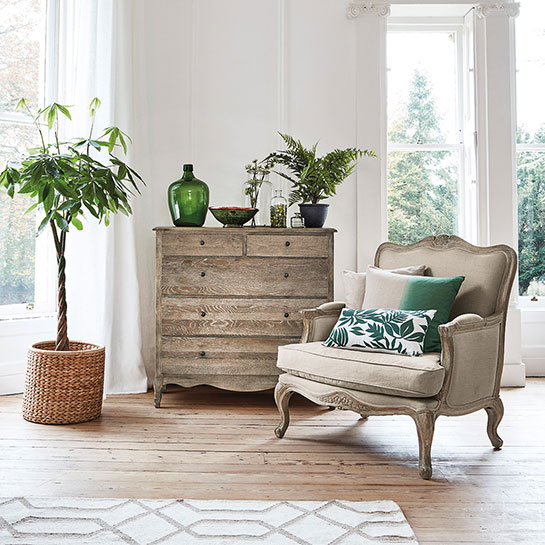 Rattan romance
Our rattan collection is simply, divine, even if we do say ourselves. It strikes a contemporary pose yet has a classic romance to it. It retains a beautiful elegance with sweeping curves and cabriole feet styling, with the rattan panelling working harmoniously with the weathered oak frames.
Our Sienna Rattan collection creates a complete bedroom look with the bed, bedside, wardrobe and chest of drawers. And our particularly stunning Versailles Bed has won our hearts over a hundred times with its beautiful winged headboard and detailed carving. Versailles is firmly on our must-have list.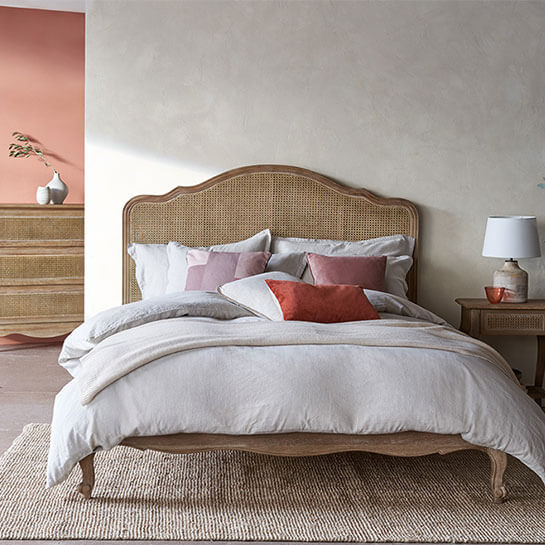 Upholstered sophistication
Our Loire and Aubrey Beds are at opposite ends of our weathered oak spectrum yet both pictures of design perfection. Our Loire Bed is sophisticated through and through with its ornate carving, delicate fluting and buttoned upholstered headboard, which is surrounded by a solid weathered oak frame. We love it for its graceful presence.
Our Aubrey Bed on the other hand is coolly contemporary with unabashed clean lines that are softened by gentle curves and an upholstered linen headboard. Aubrey is meticulously crafted down to the smallest detail; its gently curving lines extending down to the legs. This bed is unassuming yet utterly stylish, with a beautifully designed, coordinating bedside table and tall boy completing the range.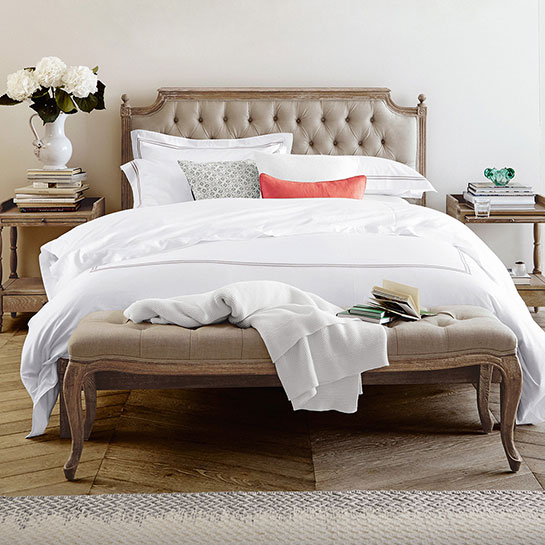 If you're looking for a wooden bed, weathered oak or not, read our Wooden Bed Guide, for a comprehensive overview of all the beautiful wooden beds we have to offer.
---
Related Articles