Last Modified 27 September 2023 |
First Added 04 June 2020
How to Choose the Perfect Pillow: A Comprehensive Guide
Is there anything as wonderful as cuddling up with a sumptuously soft and squishy pillow as you prepare to doze off after a long day?
It's certainly true that finding the perfect pillow can transform your sleep experience. At Feather & Black, we understand that everyone has unique preferences when it comes to pillow firmness, size, and material. In this guide, we discuss the art of choosing the perfect pillow to suit your individual needs.
Choosing a pillow based on sleep position
This is, without doubt, the best part of the process! Take a few nights to get an idea of how you like to sleep, whether it's on your back, on your side or on your front. Make a note of how you prefer to lie when you're drifting off to sleep and, more importantly, what position you're in when you wake up.
Knowing your preferred sleeping position is the most important factor when choosing the right pillow. This information can make all the difference to how high or low your pillow should be to maximise your comfort.
Remember, the aim of your pillow – along with your mattress, of course – is to keep your spine in total alignment so that no unnecessary strain or pressure is put on your neck, shoulders or hips.
Sleeping on your back: Pick a medium depth pillow. These pillows hit that precise spot between stopping your head from sinking too far back and pushing your head too far out. For example, our Luxury British Wool Pillow is designed specifically to support back and side sleepers. The rich wool naturally retains its shape, so you can enjoy plush plumpness night after night.
Sleeping on your side: Consider a high, firm pillow. When you sleep on your side, your neck will need maximum support to keep your head, shoulders, and spine in alignment. Our Tempur® CoolTouch™ Firm Pillow is an excellent choice for side sleepers, with pressure-relieving memory foam designed to support you where you need it most.
Sleeping on your front: Opt for a soft pillow. Those who sleep on their stomach need to maintain their neck to spine position. For an opulent night's rest, our most premium natural pillow contains super soft Hungarian goose down and feather. Breathable and lightweight, this pillow is exquisitely squishy for a glorious night's rest.
If you find that you can't pin down a single sleeping position, don't worry – your best choice is to aim for a happy medium. Go for a pillow of medium depth which should perfectly support you, no matter how you like to drift off. Our Duck Feather Pillow Pair offer medium firmness for the perfect all-round solution.
Understanding different pillow fillings
Once you've decided on a pillow that matches your sleeping position, the next step is to look at what actually goes into the pillow.
Feather and down fillings are considered extremely comfortable due to their natural qualities – feathers are heavier and more robust, making them a great filler, and down offers superior insulating qualities whilst being extremely lightweight.
These natural fillings are regarded as the most luxurious filling for your pillow and are normally derived from ducks and geese. Natural fillings by their very nature are incredibly durable, offering exceptional longevity and lasting plumpness.
An alternative for many is synthetic fillings. Synthetic pillows, often containing soft microfibre, are perfect for allergy sufferers who prefer to avoid natural fillings. Our Soft as Down Pillow Pair offer the luxurious loft of natural feather and down, with the added benefit of a hypoallergenic finish.
Every pillow in our exclusive range is machine washable to guarantee lasting freshness, so you can rest peacefully knowing your sleep hygiene is taken care of.
Understanding pillow firmness
As the name suggests, pillow firmness refers to how soft or firm a pillow feels whilst you're laying on it. Here's a quick overview of the various firmness levels you can find in our range of pillows.
Soft: Perfect for those who snooze on their stomach, soft pillows provide the least support, but plenty of squishy comfort. Front sleepers generally need low pillows to keep their spines in the correct alignment, but soft pillows also provide crucial cushioning around the neck and shoulders. Our most premium natural pillows are available in a soft comfort grade, or try our Tempur® CoolTouch™ Soft Pillow for additional support with a sumptuously soft finish.
Medium: As you might expect, medium firmness pillows are an exceptionally versatile all-round solution. No matter your sleeping position, choosing medium firmness means you'll always have the support you need. Whether you prefer natural or hypoallergenic fillings, our pillow range has a medium firmness option to suit your sleep preferences.
Firm: Firm pillows provide optimum support for your spine, preventing misalignment and aiding sleepers who suffer with back pain. An ideal choice for side sleepers, firm pillows alleviate stiffness in the neck, back and shoulders so you always wake feeling refreshed. For exceptional pressure relief and a pleasing cool-touch feeling, our Tempur® Comfort Pillow has a firm comfort grade, with the superior support of cushioning memory foam.
The benefits of choosing the right pillow
It goes without saying that choosing the right pillow is an essential step in a great night's sleep, but it can also impact your wellbeing too. Here are some of the key health benefits of choosing the right pillow:
· Improved sleep quality: Naturally, a pillow that gives you optimum comfort and support will lead to a better night's rest. Less tossing and turning ultimately means more hours of undisturbed restorative rest.
· Reduced risk of sleep conditions: Common sleep disorders, such as sleep apnoea, can be reduced or even eliminated by a pillow that properly supports your head, neck and shoulders.
· Improved spinal alignment: The correct pillow can keep your spine in alignment, which in turn improves your posture, limits pain and stiffness in the morning, and reduces risk of injuries during the waking hours.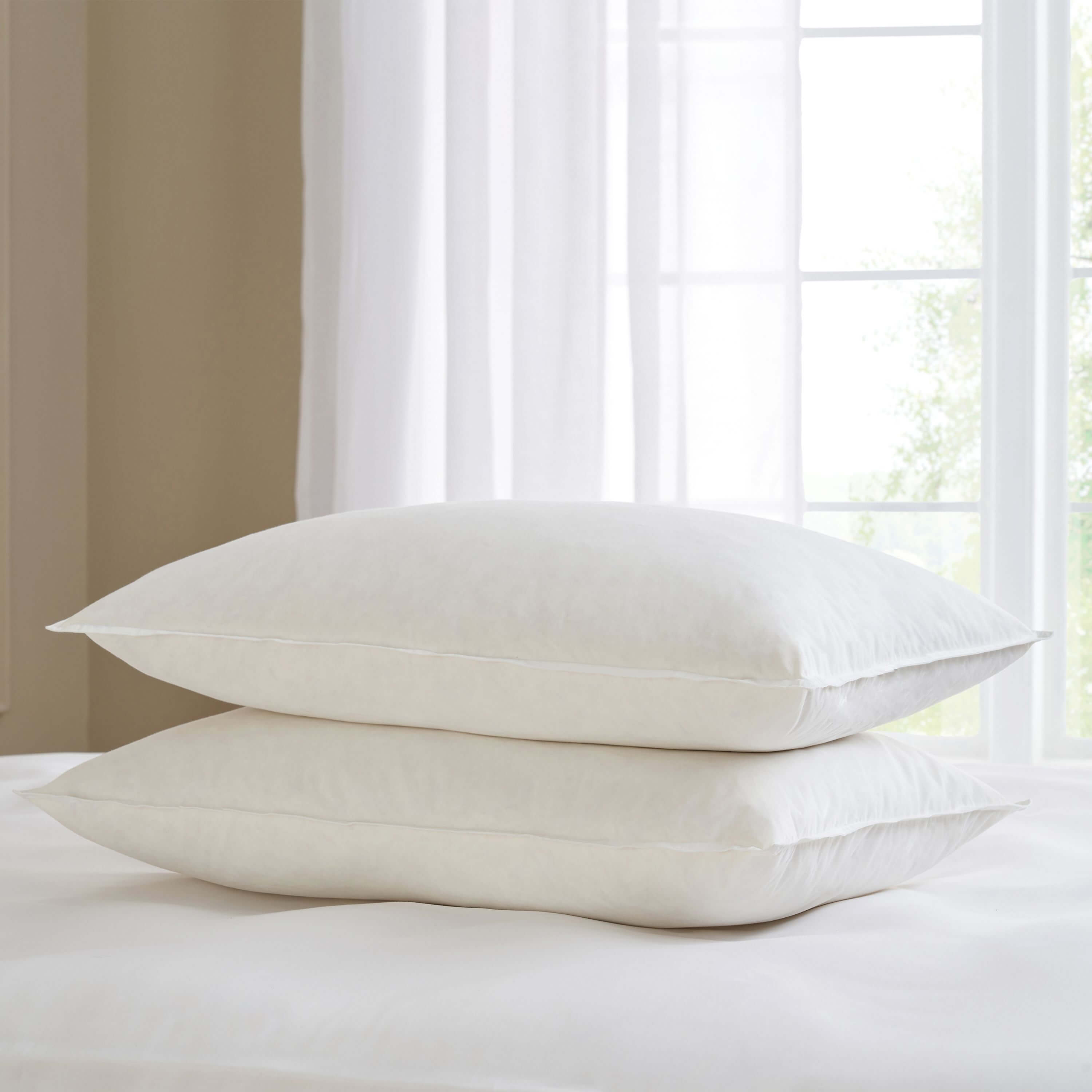 Choosing the right pillow is a personal journey. At Feather & Black, we are here to guide you every step of the way. Explore our diverse collection of pillows, ranging from luxurious Hungarian Goose Down to hypoallergenic options, each designed to provide you with a night of restful sleep. Read our comprehensive Bedding Guide to delve deeper and find your perfect match.
Related Articles
Last Modified 27 September 2023 |
First Added 04 June 2020